MAKERS
April 9, 2016. Monmouth University, West Long Branch, NJ
TEDxNavesink MAKERS will explore the essence of creation.

We're all makers, and sometimes we choose to make a difference.

We're revolutionaries who only see malleable things to be
deconstructed and reconstructed into better things.

Meet 30 makers. Life is what you make it.
Make your mark.
What is TEDxNavesink?
In the spirit of ideas worth spreading, TEDxNavesink is a local event that brings people together to share a TED-like experience. At TEDxNavesink, live speakers combined with TEDTalks videos, spark deep discussion and connection. Learn more about TED and TEDx here.
Announcements

Did you attend PLAY? We plan to continue building great events for you that deliver amazing content. To do that we need some feedback.  Click here to take our quick survey and RESERVE YOUR TICKET for 2015.

"TEDx and Micro-Organizing Monmouth County". Check out this review of TEDxNavesink PLAY in triCityNews
Previous Events
Accelerators took place on Saturday April 11th, at Monmouth University, West Long Branch, NJ.
The conference explored Accelerators that are creating game-changing innovation and cutting edge thought. Accelerators are: catalysts. Change makers. Inflection points. Pivotal moments.
.Learn more about the 2015 event here:  Talks/Videos | Event Photos | Team | Sponsors | YouTube Playlist
---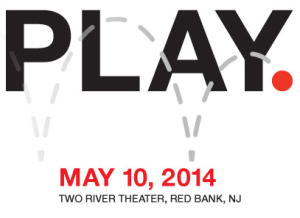 PLAY took place on Saturday May 10th, at the Two River Theater in Red Bank, New Jersey.
Play offered two dozen live talks and entertainments on the surprising ways that play is a positive force in our lives. Being at play is a most resourceful state. It facilitates greater openness, tolerance, creativity, generativity, generosity, and curiosity in all aspects of human endeavor. As a consequence, it impacts business, education, innovation, public space, community, real estate values, culture, and on stage, land, sea, air, and in cyber spaces.
Learn more about the 2014 event here:  Talks/Videos | Artists & Entertainers | Event Photos | Team | Sponsors | YouTube Playlist | Event Selfies
---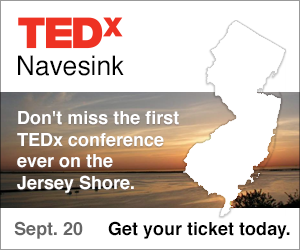 THE NEXT WAVE, the inaugural event for TEDxNavesink, took place on Sep 20, 2013 at Brookdale Performing Arts Center in Lincroft, New Jersey.
Over 280 attendees were joined by 33 sponsors, 25  organizers, 20 additional volunteers, 11 visual artists, and 25 live speakers and performers, including Kaki King, Dr Robert Lucky, Dr Ben Horton, Cranston Dean.
Learn more about the 2013 event here:  Talks/Videos  |  Event Photos  |  Team   |  Sponsors | YouTube Playlist